Our magazine will be back in print this month!
Hello Members,
In the September newsletter the hot topic was the predicted Indian Summer. It transpires that September was the hottest on record and even now although the early mornings are distinctly autumnal it still isn't cold during the day, up to now. The intermittent falls of heavy rain have been particularly good for the Pinecliff Garden that our association funds and manages. The volunteers over the last month have planted an abundance of new shrubs and perennials which you will be able to read about in the forthcoming Pines & Chines magazine
The Magazine & Monthly meetings
Sadly, we are no nearer being able to resume our popular open monthly meetings, but the good news is that our colour magazine Pines & Chines will be back on the printing presses this October. By the end of the month we shall be making safe deliveries to all the 94 blocks of flats which have block membership and to the Wardens who personally deliver to the hundreds of individual house members too.
Subscriptions
Understandably with the summer magazine being only online Wardens were not always able to collect subscriptions where a Standing Order isn't in place. Please may we ask our individual household members to check to make sure their subscriptions are up to date and if not pay through the web site https://www.pinesandchines.co.uk/become-a-member/ Or email the Treasurer treasurer.bpccra@gmail.com
It is important that we maintain a healthy bank balance as this year the Association has many unforeseen expenses and increased costs, such as providing free advertising for local businesses, arranging Covid Safe delivery of the magazines, providing funds for the Pinecliff Garden to keep it looking beautiful, insurance premiums and helping out with the Canford Cliffs Village Christmas lights to name just a few things we support.
Also to be able to play an effective role in our community sometimes it may be prudent to solicit legal advice and expert opinion so we can defend and protect our community if needs be. The following topic is typical of the fights we have on our hands trying to persuade the Authorities to do the right thing.
Cycling on our Woodland footpaths
More correctly we could say that some cyclists are wrecking our woodland footpaths and terrorising local people walking through the Branksome Chine woods often with small children and dogs. Incredibly, that is not an overstatement. The Association is receiving many calls and emails with photos of ruined woodland walks and the mountain bikers involved. Ordinary decent people are being verbally abused and threatened by anti-social bikers on a daily basis, this has to stop.
We thought we were starting to win when after months of emails, meetings, and phone calls we finally persuaded the council to erect "No Cycling" signs at access points to the woodland paths to confirm and uphold the Bylaw prohibiting cycling on these paths. Sadly, that was only the start of even more trouble as the ambiguity of the signs suggest to many that cycling is allowed, not prohibited. Here is the No Cycling sign, what do you think it means?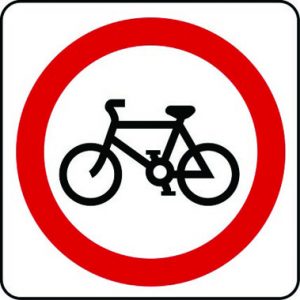 Most signs designed to prohibit things such as parking your car, overnight camping, or camper vans etc have a similar sign with the appropriate image but with a diagonal red line across the roundel. The saga continues, watch this space and check out the web site for more i information, common sense must prevail.
The Schoolreaders Charity is asking for our help by making our members aware of a unique volunteering opportunity. The gist of the issue is that the lockdown has affected the literacy levels in our primary schools badly. So the Schoolreaders charity is calling for volunteers to listen to children read. Schools in and around Poole and Bournemouth desperately need more Schoolreaders volunteers. You can find out more about this incredibly important work on their web site https://www.schoolreaders.org/ , Or you can telephone 01234 924222.
Think about this….. In August 2019, 1 in 4 children (174,000) across England were unable to reach the Government's expected standard of reading at the age of 11 (Source: 2019 Key Stage 2 Reading Assessment). In the same figures, 28% of children across Dorset (1,090) were unable to reach that target. That's not so good so please think about helping our kids out directly so they will be better equipped to cope with life and go out into the world with confidence. Our language is an important part of our culture and heritage lets do something to make sure it stays that way.
Supporting Local Business
Many of our local businesses are pulling out all the stops to maintain their service offerings to the public and secure the jobs of the staff. Would everybody try their best to support local businesses such as
Westbourne Bookshop, which is offering free local delivery, it doesn't get better than that. So after you've read the literary reviews in the Times and the Guardian give them a call when and order your books, simple 01202 768626 https://booksandvinyl.co.uk/westbourne/
Westbourne Hardware where Philippa is operating a service counter across the entrance of her shop in the Westbourne Arcade. She is open for business and offering the full and impressive range of products we all use every day. So drop by for your requirements and say hello to this brave lady who is working so hard for all. 01202 764295
Jazz Cafe is operating a great click and collect service. 01202 708346 https://www.jazzcafesandbanks.co.uk/
Branksome Beach restaurant is open every day from 10am through to 5pm where they serve superb fish & chips and lots more plus their "take away" next door is very handy for those beach walks. 01202 767235 .http://branksomebeach.co.uk/
Coffee Saloons in Westbourne & Canford Cliffs are open for the best coffee around plus sandwiches and pastries to eat in our takeaway
Compton Acres Cafe & Tea Room is not taking bookings, but the walk-in service is excellent and as always very well organised, and don't forget the Plant Centre and the Gift Shop. 01202 700788 https://www.comptonacres.co.uk/eat/cafe-tea-rooms/
So until the next time and remember watch out for the Pines & Chines magazine arriving through your letterboxes by the end of the month.
Roger Allen