The Bank Holidays are over so let the fun begin!
Dear Members,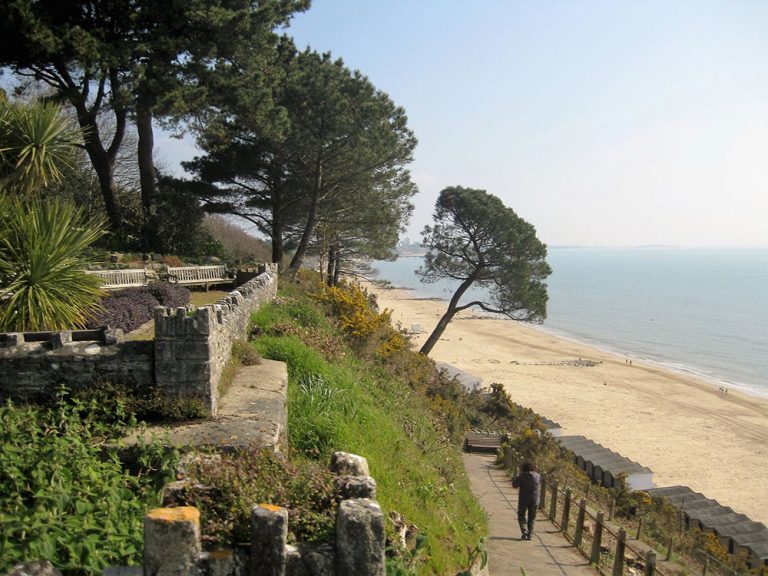 Fine weather ahead?
An "Indian Summer" with temperatures in the mid-twenties is being predicted. What a wonderful way to coast into the beautiful Autumn season. The sea continues to warm, and our visitors tend to be a little more laid back than some of the dear folk who found their way here during July and August. So don't put your shorts and sandals away just yet as there should hopefully be many more opportunities to go "beaching it" at every opportunity.
BPCCRA monthly meetings, The Magazine & the AGM
Sadly only the printed magazine will be returning with our winter edition coming out in October. If anyone has an article in them then please talk to our editor John Gunton
jngunton@tiscali.co.uk
We don't anticipate monthly meetings returning anytime soon unless we hold them in the BIC to maintain social distancing and it's the same for the AGM. But never fear your Association continues to be active with new members joining every month and your executive committee keeping itself busy on your behalf.
Revitalising the economy through building and redevelopment
We are all aware that our economy needs all the help it can get both locally and nationally. With this in mind the Association is pleased to see that the McCarthy Stone development of Greenhaven, 1-5 Lindsay Road is back on track with the good news that the Show Apartment should be open for viewing this December. Construction is a vital part of the UK economy employing may skilled people at high salaries and critically the sector buys UK manufactured products and raw materials. If construction prospers the rest of the economy will follow.
Changes to Planning Law
Continuing with the construction and building theme, residents should be aware that there is a national consultation on planning taking place now. The government is looking to streamline the planning process which they say will be a vital component of getting the houses built we need for new homes and to help boost the economy. You can read all about it and access the Government Paper through our web site.
Views and opinions are being sought so have your say, but I would respectfully suggest reading the document first. The deadline for submitting feedback is the 20th October.
Redevelopment on the Canford Cliffs section of the promenade
Our Council (BCP) has lodged a revised planning application for the development of the existing shelter on the Canford Cliffs promenade. The application is to convert the shelter into a café with an outside terrace, disabled WC's and four new beach huts on the first storey. That means another business creating more jobs and giving more choice for somewhere to sit and enjoy an ice cream and coffee by the sea. What's not to like?
Thoughts on Cliff Drive
With Cliff Drive about to be closed during the remedial works to the cliff, it could be an ideal time to consider alternative options, for when it is re-opened. Currently at busy times it becomes dangerous for both pedestrians and drivers alike when two cars are unable to pass each other without mounting the pavement with the parking bays full. Such manoeuvres pose risks to all concerned and particularly for residents attempting to leave their properties. If you have suggestions as to what changes might alleviate the situation please email a reply to this newsletter or contact your local councillor.
Parks and Open Spaces
Our parks and opens spaces are so important for our health and wellbeing and luckily we are blessed with many fine parks and woodlands. We are also fortunate to have many volunteer groups that work in partnership with the council to manage and look after many public spaces. Bournemouth, Christchurch, and Poole are now working in harmony together in so many areas and none is more valuable to our society than our parks and open spaces.
Members may be interested to know that Bournemouth Parks Foundation was established as a charity five years ago, in partnership with Bournemouth Borough Council, to fundraise for capital improvements to parks as well as deliver community projects across Bournemouth's green spaces. You can find out more about them on their website:
bournemouthparksfoundation.org.uk
. The good news for Poole is that they are considering options to expand the Parks Foundation across Christchurch and Poole too.
Pinecliff Sunken Garden
Your Association plays an active role in preserving our parks for all to enjoy. We run our own volunteer group to manage the Pinecliff Sunken Garden on the cliff top. We have eleven active volunteers and do everything from sweeping the steps and paths to providing and planting new plants and shrubs plus continually re-staining and repairing the memorial teak benches. We're there most Thursday mornings so please come along and say hello.
The Branksome Park Community Speed Watch Team is back in action with a focus on Western Road.
During the early stages of the Lockdown when we were all taking long daily walks the silence on our roads was deafening. And we could cross roads in safety. Alas the roads are now virtually back to normal so whilst most of us drive safely within the speed limits there are those that sadly choose not to.
Community Speed Watch
Weekly monitoring is being carried out and extra precautions now have to be taken under the Covid 19 rules. The teams will be more spread out at the roadside so they will be even more visible and hard to miss!! The Police Trucam will join sessions from time to time and, of course, if that 'clocks' a speeder, a Penalty Notice will follow. Team members have noticed that, with less traffic during the crisis period, urban speeds have been rising with consequent danger to residents, particularly children. We record details of traffic and speed breaches at each session and will share the trends with members at a future meeting.
New No Cycling Signs
Vicky Moss, the Association Special Projects Officer lobbied tirelessly to get the No Cycling signs restored to the entrances to the Branksome Chine Woodland Walks. And we are pleased to say after many many emails, meetings, and phone calls she was successful. Well done Vicky. But be warned, walkers still have to watch out for high speed mountain bikers seemingly oblivious to the rules and the safety of others.
Police & Crime Commissioner Funds Free Mental Health Sessions
Members of the public who experienced stress and other issues during the pandemic (which is still very much with us) can now benefit from free mental health workshops. The interactive sessions will be delivered by Dorset Mind from 14th to 19th September.
So until our next newsletter at the start of October, on behalf of the whole Executive Committee may I wish you a lovely enjoyable September and to keep well safe and above all to keep smiling.
Roger Allen