BCP Seafront Consultation is open until 26 Sept.
BCP Council is developing a new Seafront Strategy and is inviting those who live, work and visit the area to help shape the approach to protecting, managing and developing the seafront and harbour coastline over the next 20 years.
The Strategy aims to establish a 'World Class Seafront' promoting inward investment, tourism, community use, wellbeing and sustainability, whilst protecting our natural environment and celebrating the distinctive identities of each section of our coastline. 

Many of the proposals have been brought forward from the Sustaining Poole's Seafront SPD (Adopted December 2015) but it is noted that the proposals for a new café/restaurant projecting from the cliff top in the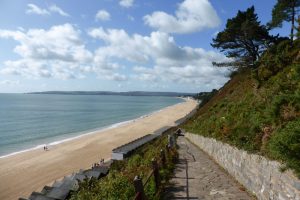 Western Road car park, the redevelopment of the existing Canford Cliffs library site for flatted development and the use of 50% of the Beach Road car park for the development of 60 flats has been omitted. 
The Beach Road car park proposal is, however, still included in the BCP Draft Local Plan.
The BPCCRA is of the view that the loss of the Beach Road Car Park as a car park will be potentially a disaster for our area
Please see the link below to the consultation document. 
<https://haveyoursay.bcpcouncil.gov.uk/bcp-seafront-strategy>
Clearly, the proposals are of significant interest to our Members. Some points arise for example:
What is the basis of the Strategy; surveys of residents, visitors, businesses, Officer ideas?

What is the link with the draft Local Plan eg. Future of Beach Road car park?

There is little on car parking/traffic management impacts – how will these be dealt with?

What are the impacts on road safety – land train, cyclists, scooters etc. and conflicts with other seafront users?

Financial inputs – what are the likely sources of capital for the projects?

In view of the importance of this Strategy, the Association is hoping to arrange a presentation to Members by an Officer from BCP Council at the Association's proposed meeting on Wednesday 07 September 2021, Covid restrictions permitting, when there will be the opportunity to air your views and ask questions. Watch this website for details.