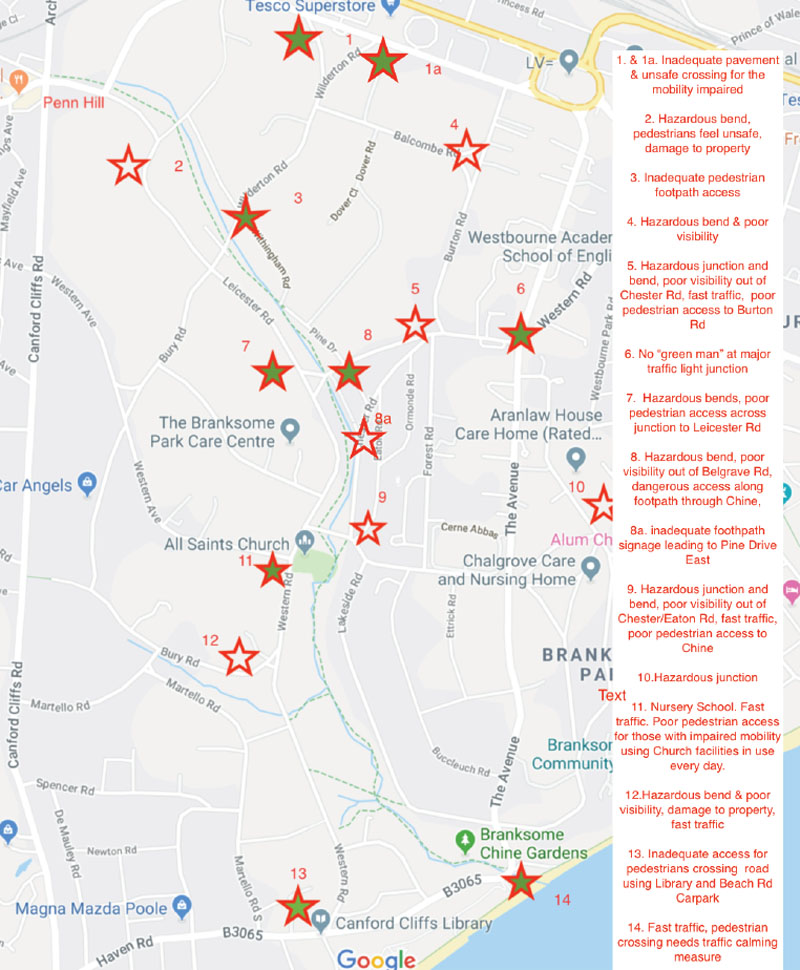 Vicky Moss who has joined the BPCCRA Executive committee is making an immediate impact to the benefit of all residents in Branksome Park and Canford Cliffs. Please read her recent email to Andy Hadley of the Poole Peoples Party who holds a transport brief.
Andy,
Thank you for your reply and I appreciate the work the Unity Alliance are putting in to promoting sustainable travel with the bid for 'Transforming Cities'. Please find attached a Map identifying hazardous junctions and areas. These have been identified by residents and users of the footpaths as serious concerns have been raised to the BPCCRA (and Poole Council ) over the last year.
I believe the Branksome Park area qualifies for 'Transforming Cities Funding'. Leicester Rd and Western Rd in Branksome Park are used as a main thoroughfare by motorists travelling between Bournemouth and Poole and the wider area on their way to work, school and also recreational activities. Thousands of cars use these roads everyday, however a traffic survey has not been done for at least 15 years, (or we have not been informed of one).
The increase in volume and speed of traffic has not been met with improvements to pedestrian access. I have noted a marked decrease in the last 3 years, in pedestrians walking through Branksome Park, in particular through the Chine towards the Beach as it has become increasingly inaccessible due to the hazardous traffic conditions.
Last month I witnessed a grandparent pushing a buggy at the junction 8 below (Pine Drive footpath), narrowly missed getting hit by a car coming at speed from the triangular junction of Western/Leicester Rd, they struggled to run across as the cars swerved to avoid them. A school boy travelling by bike on his way to school was narrowly missed by a speeding car at Junction 11 below – Western Ave/Western Rd. He no longer rides his bike to school…
All Saints' Church has a Nursery School running everyday and Rainbows, Cubs, Brownies, Guides etc in the evenings, as well as many older people and those with impaired mobility using the Church Hall in the evenings. Traffic regularly travels in excess of 40 mph along this stretch of road and Church Facility users have frequently expressed fear of getting knocked down.
Residents at Junctions 2 and 12 below have had their walls knocked down due to dangerous driving along hazardous bends. The resident at Junction 2 fears for her family's safety as they walk along the pavement to get the bus to school.
Junction 8 below where the footpath goes through the Chine at Western/Leicester Rd experiences regular shunting accidents as motorists do not look straight ahead, but to the right to see if they can continue without stopping at the give-away line. Some of the incidents have required hospitalisation.
At Junction 8 a pedestrian crossing through the Chine has also nearly been knocked over as a car mounted the pavement as the driver was not looking straight ahead, he feels he's lucky not to have been killed.
Junction 8 is also the entrance to Belgrave Rd where visibility splays exiting are very poor. As well as poor visibility there is fast traffic and pedestrians and cyclists mistakenly using the road (8a) as a bridleway as the official one on Pine Drive East is not signposted.
Junction 8 also needs safer pedestrian crossing access across to Leicester Rd to offer pedestrians an alternative route along the pavement as opposed to the Chine. The Chine is not always safe for women and teenagers to walk though alone as there have been sex offences committed in the Chine in the past.
Junction 1 and 1a – Wilderton Rd & Wilderton Rd West have a high number of mobility impaired people crossing, there is no proper pavement and cars come sweeping round into Wilderton Rd from Lindsay Rd.
Junction 6 The Avenue/Western Rd has no pelican crossing so pedestrians have to guess when to cross – this is a major junction with many older people living in the surrounding flats.
Junction 5 Chester Rd has very bad visibility exiting and there have been a number of accidents as Burton & Forest Roads all meet at this point. The traffic also travels at speed along Western Rd.
The other junctions at -Balcombe Rd (4) Chester/Eaton Rd (9) Bury Rd (12) Tower Rd (10) are similar in that several roads join at a junction and cars travel at speed. A mini roundabout system may be more appropriate than the current layout.
In general there is inadequate pedestrian access where thoroughfares cross designated footpaths and cars travel without due regard for cyclists or pedestrians. We would like to see safer access with infrastructure similar that installed at Coy Pond/Bournemouth Gardens and outside the Bournemouth Town Hall. Flat top speed ramps can act as both a pedestrian crossing and speed calming, they must also be more cost effective to install than pelican crossings.
We believe that the Branksome Park area, with it's wide roads and pleasant wooded Chines offers opportunities for recreation as well as developing sustainable travel in the BCP area. We would like to see safer routes for pedestrians and cyclists and believe they would be used if it was a safer environment.
In the past year I have corresponded with Nick Ellis, the Transport Dept at Poole Council and Rights of Way/Footpaths Dept, but had no feedback to the concerns.
Community Speed Watch is just being launched in this area, which is coordinated by Roy Pointer (above). I'm not sure if information can be shared, but there will be records of the volume of cars and those travelling in excess of 35 mph being held by the Police in the coming months.
Thanks in advance for your support and efforts to improve sustainable transport and help make the area more accessible to pedestrians and cyclists.
Regards
Vicky Moss
BPCCRA